---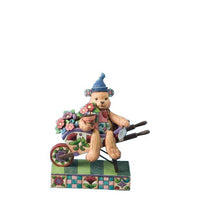 Enesco - Jim Shore
"Flower Bear"
This beautiful figurine is of a bear sitting in a wheelbarrow with potted flowers.  This item is brightly colored with a patch work of designs.
This angel was created by Jim Shore through Enesco. Over the years Jim Shore has perfected his unique style, combining elements of folk art and a vibrant color palette applied to traditional themes. Jim takes his design ideas from quilting, rosemalling, appliqué and flat perspective folk art to create an intricate and colorful work of art that reflects our shared cultural heritage yet is distinctively Jim Shore.
This figurine is approximately 7.5" tall x 6.5" long.